Eastern European Missions
EEM's mission is to place bibles in the native tongue of people all across Eastern Europe. This includes Ukraine and other neighboring countries.  The countries have opened their arms asking that bibles be given to their public schools for curriculum. To provide these bibles, EEM has a fund drive called "Million Dollar Sunday" where they hope to raise at least that much each year.  The New Smyrna Beach Church of Christ has participated for years in the effort to help EEM reach its goals and place bibles in these countries.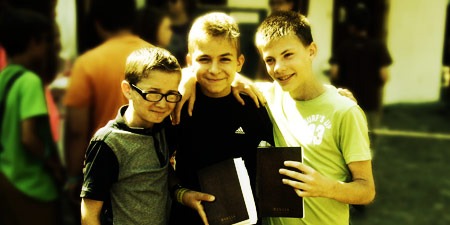 Since 1961 Eastern European Mission (EEM) has been providing God's Word to the people of Russia, Ukraine and Eastern Europe in their own languages. For many years EEM found ways to get the Bibles through The Iron Curtain. Then in 1989, God brought The Wall down. Now, EEM provides Bibles and biblical literature in more than 20 languages to nations of the former Communist Bloc. These materials are provided to individuals, mission churches, campaign groups and other organizations related to the Church that teaches God's Word in former communist nations.
EEM also provides Biblical literature to families, children in youth camps, public universities, public schools, public libraries, prisons, hospitals, orphanages and anywhere else Bibles are needed…all free to the recipients.
As a veteran in the field, EEM knows the territory, and as sociopolitical governments and the dynamics in Russia, Ukraine and Eastern Europe have changed, so have EEM's opportunities for reaching people. With the demise of communism and the birth of new freedoms, EEM has been able to gain easier access and is
developing new materials and programs
to meet the changing needs in the former Communist Bloc.  For more Information:
www.eem.org
Before the fall of the Iron Curtain, generations of young people were indoctrinated with the communist ideology. This was done partly through the pioneer youth camps. Nearly a million children each year still go to these summer camps but of course, communism is no longer taught. In fact, the leadership of the Ukrainian national youth camp organization has asked Eastern European Mission to bring teams of Christians into all of their 500 youth camps. They have also asked us to bring and teach the Bible. In 2006 as a response to the invitation, EEM developed a program to form teams to go into the youth camps in Ukraine and to take and teach the Bible to the children and staff. EEM works with officials in Ukraine to select which camps to attend and then provides training and translators for the teams that will go to those camps, as well as other needed services. The same camps that taught communism now want the Bible.